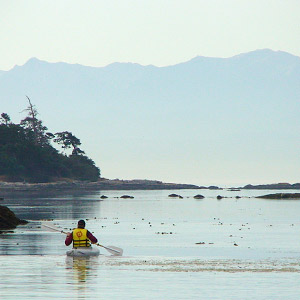 Discovery Island Marine Provincial Park
Excellent kayaking opportunities make Discovery Island Marine Provincial Park a popular destination for visitors and local residents. The area is accessible from Victoria, where paddlers can launch from Cattle Point, just north of the Oak Bay Marina.
Kayakers paddling between Oak Bay and Discovery Island will be delighted by the wildlife along this route, which features a sensitive seabird nesting area and ecological reserve. Sightings of seals, sea lions, otters and Bald eagles are common around the park. Paddlers should be aware that these waters can be treacherous, as strong currents and frequent winds create dangerous conditions, including rip tides. Crossings are best made at slack tide in calm weather.
Discovery Island is a popular kayaking and camping destination for school groups and kayak instruction groups, who have experienced guides on hand. The park features a large, open field, southwest of Pandora Hill, where campers can set up a tent. The only facilities provided are a pit toilet, information shelter and picnic tables. Campfires are not permitted on Discovery Island.
A hiking trail system runs from the lighthouse on Sea Bird Point to the western shore of the park, where hikers can hike up Pandora Hill for sweeping views of the Olympic Mountains and surrounding area. In the spring, a colourful array of wildflowers blooms in the woodlands and meadows.
Boaters should be aware that there is no safe anchorage and no moorage in the park - the closest safe harbour is in Oak Bay. Mariners should exercise extreme caution, as the main access to the park is via the rock and reef-strewn Rudlin Bay, which is exposed to the elements from the Strait of Juan de Fuca and Haro Strait.
The northern portion of Discovery Island, adjacent Chatham Island and some of the smaller islands nearby are First Nations Reserve lands. Please respect these areas. Several of the nearby islands constitute parts of the Oak Bay Island's Ecological Reserve. These habitats are extremely sensitive to human disturbance and vulnerable to the introduction of non-native animal or plant species. Please do no enter into these areas.
source: BC Parks