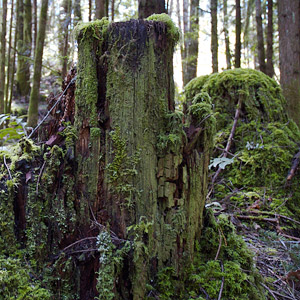 Francis/King Regional Park
This park is an ideal place for visitors of all abilities to explore nature featuring 11 kilometres of gentle woodland trails, spring wildflower meadows, a nature centre and meeting room and the Elsie King Trail, a cedar boardwalk with access for people with walking disabilities.
Start at the Nature Centre. CRD Parks staff and volunteer naturalists can answer your questions and point you in the right direction on the trails. Pick up a brochure, and check out the seasonal displays that focus on the plants and animals of the park.
Stroll the Elsie King Trail. The Elsie King Trail is a self-guiding interpretive trail that brings people with limited mobility and agility closer to nature. It's also perfect for family outings with young children. The Trail is named after a prominent leader in the Victoria Girl Guides and the wife of naturalist Freeman King. This forest loop includes interpretive signs, rest areas with benches and a shelter.
Walk under towering trees on one of the several other trails in the park. Look down at the lush ferns and mosses, then up at the light breaking through the canopy far above. In the Heritage Grove, experience magnificent old-growth Douglas-fir trees. Approximately 500 years old, they are some of the tallest in the region.
Explore. If you're in the mood for a longer trek, follow the trails of Francis/King Regional Park to neighbouring Thetis Lake Regional Park.
source: CRD Parks