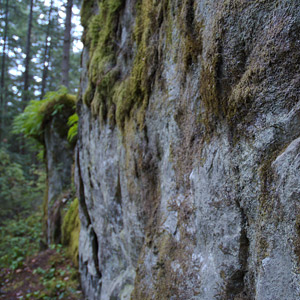 Goldstream Provincial Park
Massive trees, majestic waterfalls, a meandering river that meets the sea, flowers, birds and fascinating fish are but a few of the attractions that draw people to Goldstream Provincial Park, a mere 16 km from downtown Victoria on southern Vancouver Island.
It's a world that seems far removed from the urban adventures of British Columbia's capital city whether the visitor is a hiker seeking inspiration from this magnificent example of the great outdoors or a naturalist looking to add to their notebook. There's something new, different and exciting every month of the year at Goldstream Park.
Goldstream's numerous trails criss-cross through the dramatically different terrain of two distinct vegetation zones. The park is home to 600-year-old Douglas fir trees and western red cedar, mixed with western yew and hemlock, red alder, big leaf maple and black cottonwood. On the drier ridges visitors can find flowering dogwood, lodgepole pine and arbutus. The arbutus, with its thick leathery evergreen leaves, red-dish trunk and peeling bark, is Canada's only broad-leafed evergreen and is found exclusively on Vancouver Island and on the southwest coast of British Columbia. In the spring and early summer, Goldstream overflows with colourful wildflowers, including the shade-loving western trillium and the calypso, a delicate orchid of the mossy forest glades.
Trails range from easy, wheelchair accessible walks to strenuous hikes and track along creeks, through forested uplands and past abandoned gold diggings from the days of the Gold Rush. More adventurous hikers can climb to the top of one of the highest points in Greater Victoria - Mt Finlayson, a recent addition to the park in 1994. Another trail leads you to stunning Niagara Falls, which cascades 47.5 meters down a rock cliff into a crystal clear canyon pool below.
The park is also the site of an annual chum salmon spawning run, which draws thousands of salmon - and visitors - every year. Riverside trails and observation platforms provide extraordinary opportunities to view this natural phenomenon, which also attracts Bald eagles, who swoop down to devour the bodies of the spawned out salmon.
Park naturalists are available at the Freeman King Visitor Center, which offers interpretive programs and informative lectures about the area's natural history for individuals and groups. The park also features a large picnic area with shelters, as well as vehicle accessible camping and group sites.
For your convenience during the summer season, this park has a small concession managed by the Park Facility Operator.
source: BC Parks